Batch Neutralising, Bleaching, Deodorising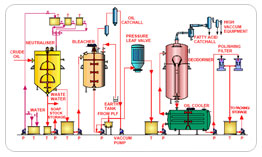 SPEC's batch type refining system is suitable for processing all types of oils and fats and for all capacities - upto 25 ton batch.
This system is tailor - made to your requirements with respect to the type of feed, batch size and final quality required. SPEC can deliver the plant complete with pre fabricated steel structures such that site installation is simple and fast. The plant can also offered equipped with automation for remote control from a central control panel.
Process of batch type refining include :
Degumming, neutralization and washing done in a single vessel, fully equipped with suitable steam heating coils and variable drive agitator for different stages.
Bleaching with activated earth & carbon followed by filtration on plate and frame OR pressure leaf filters.
Deodorization at high temperature by steam coils and under high vacuum by multi jet booster ejector system.