Hydrogen Production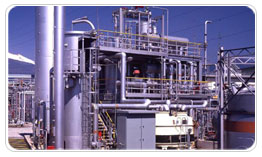 Complete plant consisting of Knowell type electrolytic unipolar cells, low pressure gas storage, compression & high pressure storage for H2 & O2 Gas. H2 Gas is used in hydrogenation process and O2 Gas is used for industrial gas welding & cutting.
Process Instrumentation
Process Instrumentation form the backbone of Process Industry. The pace at which science, technologies and engineering have advanced and have been advancing during the few decades could not have imagined without appropriate sophistication through and application of instrumentation. Awareness regarding productivity and effective plant utilizing is growing in this industry. Ever rising fuel costs and energy costs have compelled people to conserve as much as possible. SPEC has the technology to bring this down./p>
Refrigeration & Chilling
The plant is complete with liquid ammonia or freon refrigerant for vanaspati graining & freezing , fruit, vegetable cold storage, brine & water chilling for crystallization and concentration in other chemical industries.
CAMA Post Harvesting Facility
Controlled & Modified Atmosphere storage under controlled conditions of temperarure, humidity,Oxygen & Carbon dioxide in particular for Vegitable & Horticulture produce to maintain nutrient value,chemical& physical properties of the product.It helps tremendously in increasing the shelf life & keeping quality.
Main Features and Advantages :
Easy installation
Dismentalable
Custom built to any capacity
Maitainence Free
MinimumCivil work