Continuous Physical Refining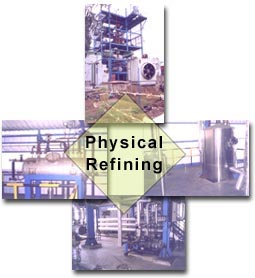 The final and most important step in process of refining is the physical distillation/ deodorisation to produce an odorless and tasteless product with negligible free fatty acid content, light color and higher stability against oxidation.
The most economical method of removal of the undesirable components such as free fatty acids,aldehydes and ketones,fatty alcohols,colouring compounds etc which are naturally present or develop during prior processes is by passing the oil through a series of independent stainless steel compartments positioned vertically/horizontally within a shell and subjected to intensive live steam stripping under high vacuum at high temperatures to remove all the volatiles.
SPEC offer plant for Continuos Deodorisation & continuous Deacidification separately as well as in combined form in single or multiple tray and in single or double shell design.The systems have been designed to handle all type of oils & fats to produce highest quality cooking oils & fats including palm oil and rice bran oil.
SPEC offeres capacities upto 200 TPD for Continuous Deacidification and Deodorisation.
SPEC is developing indeginous process for recovery of high value products from distillates.
Main Features and Advantages of Physical Refining :
Simple operation
Process control is accurately monitored through instrumentation.
Precise control of all parameters i.e.temperature, flowrate, vacuum, residence time
Pre stripping in bulk with mammoth pump
Low temperature & high temperature deaeration ensures higher shelf life
All Heating and cooling under vacuum & live steam.
Specially designed on line oil seperator from fatty acid distillates ensure lowest neutral oil losses.
Multi channel trays ensure live steam requirements between 0.8-1.5%
Lowest Energy cost due to most efficient heat recovery system - Multi pass system on tube side as well as shell side ensures long contact time thus achieving more than 80% effeciency.