Seed Oil Milling & Extractions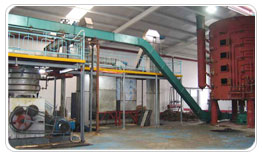 Oil Mill
Oil milling is seed storage, seed cleaning, cooking and conditioning followed by mechanical crushing. The crude oil may be directly consumed after filtration and oil cakes go further for oil extraction & deoiled cake go to cattle feed.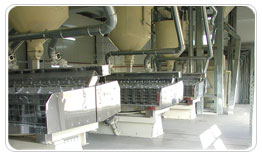 Solvent Extraction Plant
SEP has various steps which include raw material preperation ,extraction,miscella distillation , meal desolventisation.The raw materials could be seeds, bran or oil cakes.
Raw material preparation - The seed is first cleaned and passed through cracker mill to give two to six pieces of seed. These pieces are cooked and flacked to bring free oil to surface for easy extraction. Flaked material goes either for direct extraction after moisture and temperature control or to Expander Extruder for free oil recovery and further oil cell rupturing to give porous extruded collets ready for extraction. These collets are cooled before feeding to extractor.
The bran is also cleaned and then compressed together to form pellets which are also cooled before feeding to extractor. The cakes are broken into smaller pieces before feeding to extractor.
Extraction - Collets/pellets/flakes/cake and N-Hexane are fed to extractor in counter current flow under regulated conditions of temperature,vacuum,circulation flow rates etc and extraction is carried out in different stages to give Miscella & Meal.
Distillation - Miscella is passed through continuous 3 stage distillation process to separate Oil and recover N - Hexane; and
Desolventisation - Meal is desolventised and toasted to remove and recover the solvent.